Services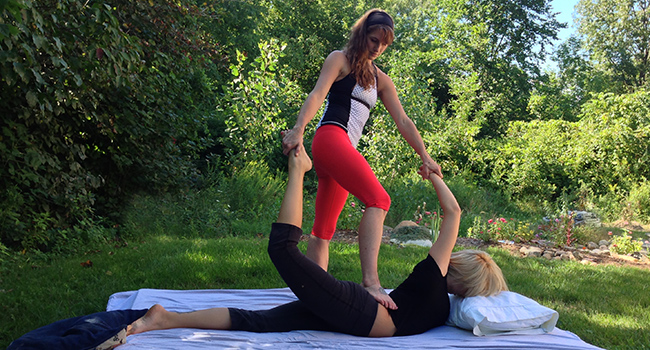 Thai Yoga Massage Services
1 hour thai yoga massage – $95
1.5 hours thai yoga massage – $130
2hours thai yoga massage – $175
What is Thai Yoga Massage
Thai massage is a system of massage and muscle manipulation developed in Thailand, influenced by yoga and the traditional medicine systems of India, China and southeast Asia. Shivago Komarpa said to be the Founder of thai massage system is thought to have been Buddha's Physician over 2,500 years ago.
Thai yoga massage is a very holistic bodywork therapy where the human being is seen as and treated as an ever changing network of physical, mental and emotional and spiritual aspects that influence each other.
A Typical Appointment
A typical appointment last between between 1.5 hours and 2 hours with the recipient in loose, comfortable clothes. The recipient and lies on a mat or firm mattress on the floor and may be positioned in a variety of yoga like positions.The massage generally follows designated lines(sen and energy) in the recipient's body. The masseuse manipulates those lines utilizing their hands, forearms, knees and feet to apply deep static and rhythmic pressure and tension.
The recipient's entire body including their fingers, toes, ears, limbs and back are generally all worked to some degree in each session. Each thai yoga massage has a standard rhythm and starts with the feet and legs while working towards the head.
The rhythm to each massage will fit each individual client's specific needs.
Benefits of Thai Yoga Massage
Increased range of motion in Joints
Increased flexibility
Increased circulation
Muscle Stretching
Reduces Emotional and nervous Tension
Reduces Stress
Relief From Anxiety
Relief from Muscle Pain
Releases Energy Blockage
Improves posture
Connects the body to the mind
Often a deep sense of peace can be experienced during a session